x

Meaning of the name - Aviel
English Name: Aviel
Meaning:
1. Biblical figure.
2. Combination of the names Avi and El.
3. Name of "Moshav" - cooperative settlement near Binyamina in Israel.
For more information in Hebrew, click here
Gematria Value: 44
Numerological Value: 8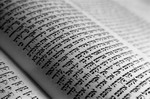 Numerological Analysis: Represents decent people with a sense of justice, lovers of justice and honesty, philanthropists and believe in equality. Practical, Like home but also work. A little shy, with lots of energy. Their negative side is the need to prove themselves. Afraid of failure and will do everything to succeed, May be overly ambitious.
Frequency Of The Name (In Israel):
The Ratio Between Boys And Girls (In Israel):