x

Meaning of the name - Ramit
English Name: Ramit
Meaning:
1. The female form of the name - Ram.
2. The origin of the name is from the name - Rama.
For more information in Hebrew, click here
Gematria Value: 650
Numerological Value: 2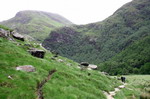 Numerological Analysis: Represents people who are peacemakers, sensitive, love to please, they hate arguments, tend to mediate complex and sensitive situations. Diplomats, with high intuition. Need love, warmth and touch. Quiet and friendly.
Frequency Of The Name (In Israel):
The Ratio Between Boys And Girls (In Israel):