x

Meaning of the name - David
English Name: David
Meaning:
The origin of the name is from the name - David.
For more information in Hebrew, click here
Gematria Value: 24
Numerological Value: 6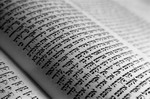 Numerological Analysis: Represents a family people, love harmony, giving, good, noble, concern for others is their top priority. Talented and creative with a tendency to perfection.
Frequency Of The Name (In Israel):
The Ratio Between Boys And Girls (In Israel):